Scouting offers fun, challenge and everyday adventure to 400,000 girls and boys across the UK. Offering over 200 different activities from abseiling and archery to drama, street sports and water zorbing, Scouting helps 6-25 year olds grow in confidence, achieve their full potential and become active members of their communities.
This is only possible through the efforts of 100,000 volunteers who also enjoy the fun and friendship of Scouting. Trusted by nearly a million parents each week, the movement welcomes members from all backgrounds, faiths and cultures. Special emphasis is placed on bringing the Scouting programme to young people who currently do not benefit, particularly those in inner cities, those in rural areas and other disadvantaged groups. The Scout Association is a registered charity in the UK and part of a worldwide movement of 31 million Scouts working for peace and global friendship.
Scouting for Young People
Beavers (Age 6 to 8)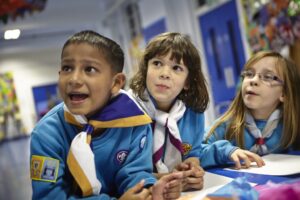 What's the best thing about Beaver Scouts? Activities, trips and making friends are all part of what makes it so much fun for girls and boys. As well as earning activity badges, many Beavers Scouts get to go on camps and sleepovers, often for the first time. Beaver Scouts like:
Being creative – making things and singing
Playing games
Going on visits and investigating nature
Learning about themselves
Getting to know other people
Discovering the worlds of science, nature and technology
Exploring the natural and manmade world
Caring – responding to the needs of others, the local and international community
Cubs (Age 8 to 10.5)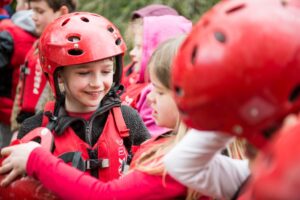 Cub Scouts enjoy new adventures while making new friends along the way. Their commitment is recognised by over thirty activity badges. As well as regular weekly meeting, Cub Scouts also enjoy activity days, weekend camps and pack holidays. Boys and girls:
Go camping
Play games
Explore the outdoors
Try adventurous activities – such as climbing, sailing and archery
Meet people from their local community
Experience the culture of other countries
Keep themselves and others safe
Scouts (Age 10.5 to 14)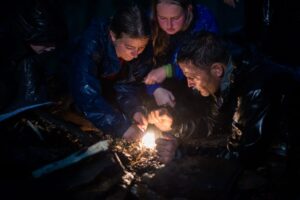 What don't Scouts do? At this age, we encourage girls and boys to take responsibility for themselves and each other, with older members leading a small team. They like being with friends and participating fully in the adventure of life. In the Troop Scouts:
Develop leadership skills
Learn emergency aid
Spend nights away – the summer camp is often the highlight of the year
Help others in the community
Cook, both at home and at camp
Adventurous and sporting activities – anything from abseiling to zorbing
Learn survival skills
Explorers (Age 14 to 18)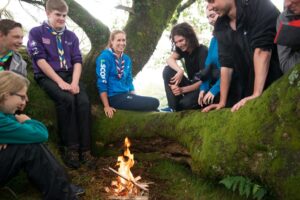 Let's face it, by the age of 14, most young people know what they want. Explorer Scouts therefore have a big say in what they do, while being supported by adult volunteers. Unit members:
Get to try activities such as power boating, sailing, snow and motor sports
Deliver campsite services – running activities or helping with site maintenance
Fundraise and help in the community
Go on camping expeditions in the UK and abroad
Go for The Queen's Scout Award, Duke of Edinburgh Bronze, Silver and Gold and the Explorer Belt (a 10 day challenge abroad) – all recognised by universities and employers
Train as young leaders – working with an experienced adult, they learn how to run activities for young people aged 6 – 14.
Network (Age 18 to 25)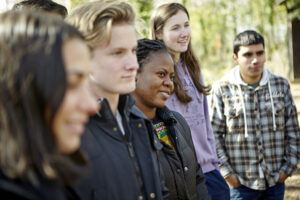 Network members (aged between 18-25) take part in a wide variety of adventurous and community based activities:
Volunteering
Fundraising
International travel
Social events
Adventure activities
Awards and externally recognised leadership qualifications
Can you imagine a world without Scouting?
Without the Jamborees, friendships and adventures it would certainly be a quieter and less colourful place. Well, if it wasn't for the talent and originality of one man, the movement might never have existed at all.
This man was Robert Baden-Powell (1857-1941), a soldier, artist, actor and free-thinker. Best known for his spirited defence of the small South African township of Mafeking during the Boer War, he was propelled to further fame as the Founder of Scouting.
Scouting began outdoors of course. In 1907 Baden-Powell held a camp on Brownsea Island, Poole, Dorset, to try out his ideas. He brought together 20 boys, some from a variety of backgrounds. The success of the camp spurred him on to finish what would become a classic of the 20th century.
Scouting for Boys was published in 1908 and from the start, sales of the book were enormous. Boys soon formed themselves into Scout Patrols. It was a global phenomenon. As numbers grew, it soon became clear that young people of all ages and in every country wanted to get involved in Scouting. 1920 was also the year of the first World Scout Jamboree. At London's Olympia, Scouts from across the world gathered to celebrate international unity and the growth of their great movement.
Scouting changed over the years and continued to grow. Scouts in the UK acted as coastguards during the First World War and ran messages during the Blitz. Our members have continued to have a positive impact on society, helping deliver health, education and rebuilding programmes across the world. Girls are now as much part of the adventure as the boys.
Adventure is at the heart of everything we do. It is the single most important thing that sets Scouts apart.
It's exciting being involved with us. We believe that through the everyday adventure of Scouting, young people and adult volunteers regularly experience new challenges that enrich their lives and meet life long friends.
We offer hundreds of activities, as diverse as;
kayaking
abseiling
staged performance
paragliding
archery
There's something for every young person, whatever their physical ability.
Every young person in Scouting enjoys a balanced range of activities, events and experiences, based around subject areas we call Programme Zones.
The zones vary depending on which of our sections the young person is in, but they cover a huge range of activities, from outdoor and physical pursuits to community involvement, creative expression and learning about the wider world.
Together we help Scouts get the most out of their Scouting experience by including elements from as many zones as possible within the activities on offer. And, the older they get, the more input young people themselves have in their own activity selection.
Hiking in the dark. Travelling across Poland with just a backpack and three friends. Spending the first night away from home.
Activities are an integral part of Scouting. But as well as being challenging physically, our activities help young people set and achieve goals and grow in confidence.